Make and Do: June 2, 2011
I'm going back-and-forth.
I'm trying to decide if I should continue this linky -- or not! I love to feature other's ideas, but I have this struggle with time! Having two blogs is a bit of a challenge and to make this grow how I'd like it to grow would take quite a bit more time than I'm currently spending.
So, I'm going to do it one more week and then re-evaluate! If you have any input, please feel free to leave a comment or send me a message!
Otherwise, check out these fun (and fabulous) ideas!
Jada Roo Can Do
shares her version of marble painting -- only it's pool painting! I love it!!
Josh and Jenny
share a unique ducky painting project! I would've never thought of this...but it's great fine motor practice!! Afterwards, the little ones will have a blast scrubbing those little duckies!
It's the time of year for campfires!! This is a wonderfully simple and appropriate craft for toddlers and preschoolers! Check it out at
Fumbling Through Parenthood
!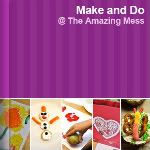 Okay...now it's your turn! Just a few rules:
No giveaways or links to your homepage -- please link to your specific post.
This linky is open to any family-friendly activities, projects, and recipes (posts deemed inappropriate will be deleted).
Make sure to link back to The Amazing Mess -- it's just good blog etiquette! I've included a button you can place on your post. Just grab the HTML! You're also welcome to share a text link if you prefer!
Try to visit and comment on at least one or two other posts! It's always encouraging to receive comments!
(If you're viewing this via email, head over here to link up!)
Labels: Make and Do