Tasty Tuesday: Easy as "Apple Pie" Snack
If you have any leftover applesauce, use it to make this simple treat.
You need:
Granola
Applesauce
Cinnamon (if desired)
1) Spoon granola into a small bowl or other container.
2) Top with a few spoonfuls of applesauce.
3) Sprinkle cinnamon on top (if desired). Enjoy!
The girls said it tasted a little like apple pie. I'm not convinced, but it's definitely much easier and less messy than baking an apple pie!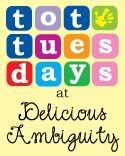 Labels: Apples, Tasty Tuesday