Leaf Frame
This works wonderfully to make a frame for fall artwork!
You need:
Contact paper or packing tape
Leaves
1) Gather an assortment of leaves.
2) Place the artwork on a piece of Contact paper (cut several inches larger than the piece of art), or line the artwork with packing tape (sticky-side up).
3) Press leaves to the tape.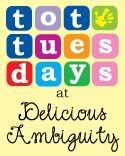 Labels: Fall