Picnic Treat -- Ice Cream in a Can
Take the ingredients for this treat along on a picnic. You'll have some tasty homemade ice cream within thirty minutes!
You will need:
One large coffee can (or other large round container that can be rolled)
One medium size coffee can (or two smaller containers -- I used almond cans)
Duct tape
Ice
Table salt
For each serving:
1/2 cup milk (We used whole milk. Almond milk works, too!)
1/4 tsp. vanilla
1 Tbsp. sugar
1) Mix the ingredients (milk, vanilla, sugar) in small or medium can. We put one serving in each small almond can (but I think we could've fit two). We were able to put two small cans in the large one. If you use a medium can, my guess is that you can fit 4-6 servings (but I'm not sure since we didn't do it that way!).
2) Tape the lids on the containers with heavy duty tape.
3) Put the small container(s) into the large container. Fill with ice and 8 tsps. of salt. Tape the lid securely.
4) Roll the container back and forth with your child (and siblings if applicable). It will take anywhere from 15-30 minutes depending on how many servings are in the can. If you get tired of rolling, take turns kicking it around or shaking it.
5) Take the small can out and shake it. If you don't feel any liquid moving around, it should be ready! Rinse the outside of the container to keep salt from getting in the ice cream.
Enjoy!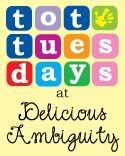 Labels: Picnic, Tasty Tuesday